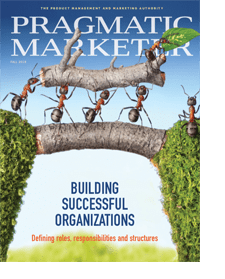 Executives and management in traditional marketing organizations see themselves as chess masters. They move pieces on a board—more personalization here, attack lagging lead generation here, support sales with additional pieces there—in accordance with a long-term strategy that only they can (and should) understand.
Such command-and-control leaders establish a plan and follow it to the letter, and they're not interested in feedback from the front lines. Though effective in a stable, predictable environment, the most remarkable thing about these organizations in a modern, volatile environment is their plodding pace.
To keep up, marketing leaders must start to act like gardeners cultivating an innovative, creative, rapidly evolving environment, rather than chess players manipulating a collection of finite resources. Only this shift in mindset will allow us to enjoy the fruits of agile marketing, including faster campaign delivery, better marketing ROI, happier employees and improved alignment with business objectives (among many others).
Of course, no thriving garden ever happens by accident. From seed selection and placement to watering schedules and pest control, gardeners need to handle tons of variables. Agile marketing organizations are no different: They require deliberate planning and careful execution to produce a fruitful harvest.
Creating Fertile Ground
First and foremost, agile marketing departments need to be planted in the right soil. In other words, each member of the department (and their leadership) needs to share a similar mindset.
For most groups, the easiest place to start is a grounding in the agile values and principles outlined in the Agile Manifesto. Others may want to spend time adapting and translating these guidelines to suit their own unique vision. The exact composition of the soil isn't important; what's key is that it's consistent throughout the entire space. Every marketer and leader should be able to articulate the reasons why things are changing, and how those changes are going to be rolled out.
This shared mindset is what will support a variety of different day-to-day practices across groups. Everyone understands the why behind activities because they know the ultimate objective those activities are trying to achieve.
Second, we need to plant the right seeds in this fertile ground. No matter what sort of organization you're in, the customer should be the seed from which all agile marketing teams spring.
This customer-centricity helps us eliminate unhelpful silos that produce disjointed messaging and poor customer experiences. It also provides a means of destroying the unhelpful practice of organizing departments exclusively around projects (and their managers). Instead, we design groups to deliver outstanding value to customers in a very specific way, such as creating a team that focuses only on a single persona, or one that handles all points of contact before a prospect becomes a customer.
Guiding Individuals with Clear Roles and Responsibilities
To be their most effective, agile leaders must study their teams, engage with them and support them. Ultimately, their goal is to become an expert on each team in their department, while providing guidance to individual marketers.
One of the first ways to improve team function is to eliminate excessive hierarchy, which typically manifests as a cumbersome review and approval process. Agility will stifle quickly if teams are still required to get each piece of work approved by multiple leaders at every stage. Move decision-making as close to the work as possible, allowing individual contributors to make choices whenever it's safe.
In places where individual decision-making doesn't yet feel safe, figure out how to create conditions where it will be possible. Training, pairing, documentation—do what it takes to empower people close to the customer to serve them better. Don't stick with your existing approval process simply because "that's how things are done around here."
Of course, just because teams are more autonomous doesn't mean that leadership can (or should) be entirely abolished. It just takes different forms.
Marketing directors, for instance, should become the owners of what the teams are expected to tackle. They deliver backlogs—prioritized lists of upcoming work—to the teams, but then they allow the teams to determine how they will deliver on those expectations. This partnership requires open lines of communication and clarity of purpose, otherwise neither group can perform its role well.
Setting up agile teams and creating new roles may be intimidating, but remember that high-performing teams, whether in agile marketing or elsewhere, require only three things: autonomy, mastery and purpose. Allow them autonomy over their work, provide paths towards becoming masters of their craft and ensure they feel connected to a larger purpose, and your garden will have the guardrails it needs to get growing.
Growing Your Agile Marketing Garden
As more parts of your garden begin to transform, you need to start supporting it at a different level. In essence, you'll need multiple gardeners who are responsible for different sections, yet are still working as a cohesive unit.
For agile marketing transformations, this means we need a formal group responsible for making the switch successful. You can call it what you like, but the simplest name may be the transformation team. This group has its own prioritized transformation backlog, and it's committed and empowered to remove any large-scale impediments that individual teams aren't able to tackle on their own. (Any department larger than 15 marketers will benefit from setting up a transformation team.)
The team should also draft a clear plan for education and piloting and share it across the entire department. Marketers who aren't part of the initial agile efforts often feel excluded, so having a documented approach with a tentative timeline can help them wait for their turn.
Finally, the transformation team should have a firm commitment to a "nail it before you scale it" policy. Essentially, this means early pilot teams need to be operating at a high level before new teams are rolled out. Small problems can explode at scale, so there needs to be plenty of time and opportunity to address these issues before attempting a rapid scaling approach.
There should also be a person who's explicitly responsible for the success of agile inside the marketing organization. Often called the agile lead, this person facilitates meetings, provides agile expertise, and coaches multiple teams to help them successfully transition to these new ways of working. (If you're looking for something for your former project managers to do, with a little training this may be the perfect spot for them.)
Gardens Are Forever
Gardening is not a short-term commitment. You can't spend a single weekend haphazardly working on a space and expect it to magically bear fruit.
Adopting an agile approach to marketing, likewise, won't happen overnight; it requires ongoing attention and deliberate action. But if you take the time to prepare the soil, provide a stable structure, and give it room to expand, you'll have an agile marketing garden whose innovation, productivity and success can feed a growing business for years to come.