Prove Your Skills, One Certification at a Time
More companies look for and require Pragmatic certifications than ever before—it's the only certification employers ask for by name. Earn your Pragmatic Institute certifications today and give your career the boost it needs.
1st
The first and most sought-after product management and product marketing certifications in the world.
5.6%
Snag yourself a pay increase average of 5.6% when you earn your Pragmatic certification badges.
500+
More than 500 of the top product jobs open right now require Pragmatic certifications from their applicants.
Become a Certified Genius in Product Management, Product Marketing, Data or Design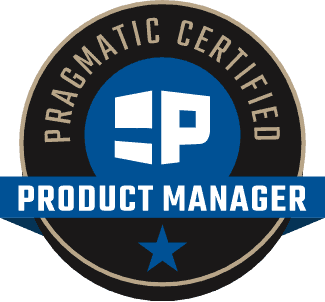 Pragmatic Certified Product Manager

Foundations, Focus, Design, Build
Become your users' biggest advocate so your teams can design and build innovative products that solve real problems.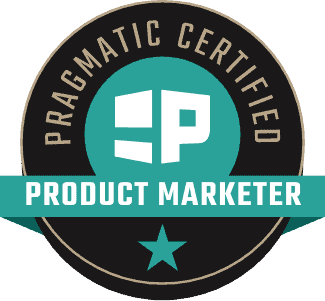 Pragmatic Certified Product Marketer

Foundations, Market, Launch, Price
Send your products flying off the shelves with the right price, the right campaign and the right strategy to win in your market.
Pragmatic Certified Product Master
Foundations, Insight, Focus, Design,
Build, Market, Launch, Price
Learn how to build and market products people want to buy by developing a deep understanding of what it truly means to be market-driven.
Pragmatic offers three certification paths designed to turn you into a certified product manager, a certified product marketer or a certified product master. Pragmatic makes it easy to learn the skills and earn the certifications you need to thrive in your role as a product professional. Find the right certification path for you.
Whether you're a data practitioner, or want to learn to work more effectively with data teams, Pragmatic has the right certifications for you.
Through the lens of the Pragmatic Data Insights Model, our data certifications will help you better understand the relationship between business and data.
Business-Driven Data Analysis
Data practitioners learn to refine projects, produce results and effectively communicate with stakeholders.
Data Science for Business Leaders
Business leaders learn how to better partner with data professionals and how to make better decisions with data.
Grow the strategic impact of design through interactive learning and practical application with courses created by designers, for designers.
Pragmatic's design certifications help designers extend their reach by combining business acumen with user advocacy to create value and strengthen partnerships.
Business Strategy & Design
Learn to connect user-centered work to advance business objectives, demonstrate ROI and strengthen partnerships.
Influence Through Storytelling
Learn to design narratives that showcase design impact, advocate for user interests and align stakeholders on common goals.
What Your Peers Have to Say
"Pragmatic Institute training gave me a solid footing in approaching product development, specifically how to bring an entire new product line up from the ground."
"Pragmatic Institute training taught me the basics and the foundation of product management. I was able to grasp the role and my responsibilities as a newer product manager in the field."
"I've been a product management professional in software for over 15 years. Since taking the Pragmatic Institute training, I've refined my understanding of my craft and have been promoted to SVP of Product/Technology with a focus on rolling out Pragmatic Institute learnings across the company."
"Simply getting organized through Pragmatic Institute's training has done wonders. Instituting win/loss helped us see immediate benefits and drew the attention of the executive team."
"Pragmatic Institute training is a back-to-basics approach to product management; it made me realize that there is no replacement for face-time with customers and prospects."
Share Your Accomplishments, and Let Employers Verify Your Certifications
With Credly, our digital badging partner, you can easily share your skills on Facebook, LinkedIn and more, and employers can find you based on the skills you've learned on the Credly site.
Got Questions?
Our team is here to help
Frequently Asked Questions