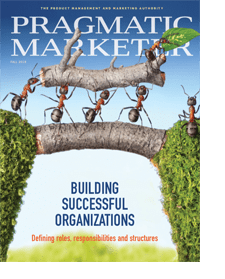 Here's a fundamental question: Should product managers own the problem or should they own the solution?
According to a recent TechValidate survey, 49 percent of the respondents said they took Pragmatic Institute training because of unclear roles and responsibilities. Many people continue to describe product managers as the "glue between departments" or "everything development doesn't want to do." One company refers to product management as "Wikipedia for the product."
These are organizations that view product management as a support role for development, marketing, and sales teams.

Product Support Isn't Product Management
If you ask people from development, sales, and marketing what product management's responsibilities should be, chances are you'll get three different answers. For example, developers might say product management should provide market expertise in real-time, whereas sales teams might rely on product management's domain expertise to help close more deals. Meanwhile, marketers might prefer that product management use their product expertise to create articles and blog posts, speak on podcasts and at conferences or write prose for the website.
But when I talk to executives, they expect product managers to be business leaders of the product. Not support for development. Not Wikipedia for salespeople. Not the content factory for marketing.
Marty Cagan, author of Inspired: How to Create Tech Products Customers Love, wrote: "Countless people with the title product manager or product owner are not doing the job their company needs them to do."
What is that job? Finding, filtering, and prioritizing problems.
It's why product managers visit prospects. Not to help close deals or demo the product, but to listen for problems, capture how potential clients talk about their challenges, and refine their product positioning.
It's also why product managers analyze wins and losses; they interview recent buyers and identify problems in how their products are marketed and sold.
And it's why they visit existing customers: They want to interview and observe real people doing real work that helps them identify real problems they can solve.
That's why Market Problems is the first box in the Pragmatic Institute Framework.

Problems Drive Solutions
Let me illustrate. From interviews and observation, the product team learns about unsolved problems. Then they can sit down with development to discuss each specific problem and solicit ideas for solving it. This discussion should lead to further clarification of the problem and business rules around that problem, which then becomes the product team's acceptance criteria.
Similarly, a product manager interviewed a few recent buyers and learned that they were all confused about product pricing—specifically, which items were included and which were options. If this product manager had been involved in those sales events, she could have addressed their confusion individually with each customer and resolved the problem for a few accounts. However, it wasn't just one sales scenario with a single customer, it was all salespeople and all customers.
This problem-oriented product manager identified a systemwide communication problem. She sat down with her marketing counterpart and shared the analysis results. The marketing manager identified a few possible solutions: a one-page pricing summary, a product configuration worksheet, an additional slide in the sales deck.
In this scenario, the product manager was an expert on the problem; the marketing manager was an expert on the solution.
Does this scenario sound familiar? It should. It's the same method used when working with development and engineering.

Three Specialties: Strategy, Planning, Growth
Respondents of the 2017 Pragmatic Institute Survey said they managed an average of three products each. It's hard to fathom how a product manager can do all the activities of defining, describing, and delivering products for more than one product. That's why we are starting to see more specialization in product management roles. We see strategic product managers, technical product managers, and product owners, and product marketing managers.
Let's take the idea of a problem manager one step further. We can get a better understanding of roles and responsibilities if we specialize titles around problems of strategy, planning, and growth.
Product Strategy Manager
The product strategy manager, sometimes called a portfolio strategy manager, thinks beyond the current set of products. These people define the portfolio roadmap, evaluate the overall success of the products in their portfolio, and determine which products are failing to achieve their goals and should be retired. Typically, product strategy managers are seasoned product professionals with experience in the business of product management.
Their success is measured in completed business plans. This includes identifying new product opportunities, validating those opportunities in the marketplace, and defining the necessary business documents to get commitment and funding to proceed with the idea.
Product Planning Manager
Most closely aligned with the role of agile product owner, the product planning manager is focused on the next set of deliverables—the next release, the next model. This role works closely with development and engineering to guide product creation and revisions.
Based on customer and market feedback from myriad sources, the product planning manager aligns new feature requests against the product strategy and prioritizes the work to be done. A measurement of success is increased customer retention, or more customers using and implementing the product.
Product Growth Manager
The product growth manager often called a product marketing manager, takes a systematic approach to identifying and correcting problems that hamper product growth. The role profiles the sales funnel to identify areas for optimizing the buyer's journey and includes analyzing customer wins and losses to identify areas for improvement in promotion and selling. The product growth manager also works with the marketing team to determine the best programs and campaigns for addressing problems discovered in the go-to-market process. A measurement of success is increased adoption, more customers evaluating, acquiring, and recommending the product.

The Problem Manager
The title "product manager" means different things to different people, and may be the source of confusion about roles and responsibilities. Imagine if product managers were called problem managers! After all, they find and quantify market problems. They determine which problem should be solved first and then they represent these problems to the solutions teams—development and marketing—to build solutions and empower sales and support with the tools they need to succeed.
Problem manager. I like it. It reminds me of when I was a problem in class and my teachers would complain to my parents. Even then I was in training to become a problem manager.