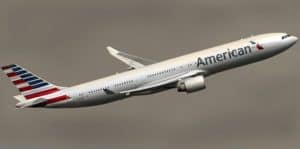 The first two sentences in a Skift.com article titled "American Airlines Plans to Keep Prices Low on Competitive Routes" are:
American Airlines Group Inc. will "absolutely, positively" match discount fares from low-cost rivals, chief executive officer Doug Parker said, signaling no end in sight for a price war that has knocked down industry shares this summer. "We price our product to match the competition," Parker told reporters at a conference in Fort Worth, Texas. "We always have, we always will."
Parker is essentially saying, "if you think you can beat us on price, think again. We will not lose on price." He is telling competitors not to bother trying.
Think about this statement. It sounds like he's telling his customers, "We will always have the lowest price." This sounds like a nice promise. It makes me, as an AA customer, feel good that my prices will stay low.
However, it's really about telling competitors not to compete on price. If he's successful, and competitors don't offer lower prices, then AA won't offer lower prices either. From that perspective, it should not make AA customers too happy. Parker is trying to reduce competition with his words and subsequent deeds.
AA now has to compete with some very no-frills airlines. A no-frills airline essentially offers you nothing other than a seat, but they do so at aggressive prices. If AA simply lowers their price to match the no-frills price, they are lowering their price for all customers who would pay for normal service. What AA has done is to create yet another class of service. Buyers of this lowest class of service board the plane last and can't carry on a suitcase. Yet they still have a seat, and at an aggressive price.
Not only did AA threaten to match low prices, they did so. Actions speak louder than words. If I'm thinking about starting a new no-frills airline, I'll look for routes that AA doesn't serve. That's what Doug Parker wants:
Three lessons to take away from this blog:
If you want to keep low price competition out of your market, you can threaten to match all prices.
Actually matching low price competitors and then talking about it shows your threat is real.
Find ways to segment you market. Don't just lower your price for all customers.